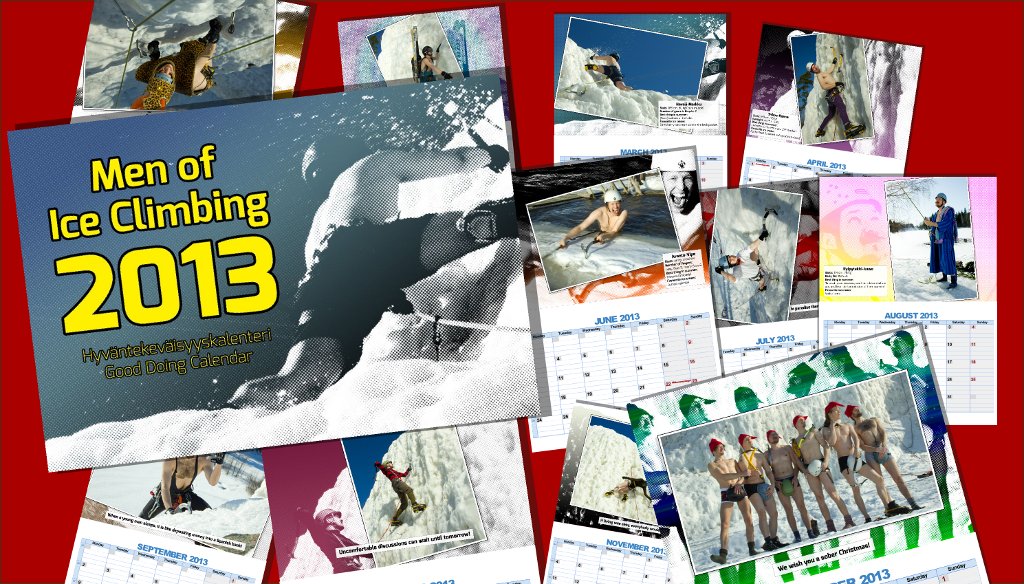 Onko keittiösi seinällä liikaa tyhjää tilaa?
Kaipaatko vastapainoa kaikenmaailman women of climbing-bikinikalentereille?
Puuttuuko vielä joululahja äidille tai tyttöystävälle tai serkun kaimalle?
Helsingin kauneimmilla jääreiteillä taiteiden maisterin hyvällä maulla valokuvaama "Men of Ice Climbing"-kalenteri ratkaisee huolesi. Tämä perheystävällinen, hillittyä mieskauneutta huokuva ajanmittausvihkonen on perinteiseen tapaan präntätty värillisenä 170g paperille, kooltaan 2 * A4, yhdistettynä sellaisella metallikierrehässäkällä.
Hinta on 15€, ja kaikki kerätty raha, joka painokustannusten jälkeen jää jäljelle, lahjoitetaan lyhentämättä ja välistä vetämättä punaisen ristin katastrofirahastolle.
Käymme myymässä näitä loppuviikosta valituilla kiipeilytreenisaleilla Helsingissä. Postitus maan sisällä hoituu 4€ lisäkustannuksella, jos joku tällaisen uskaltaa valmista kappaletta näkemättä tilata. Päivitetyt saatavuustiedot ja viimeisimmät juorut Zuckerbergin mediasta:
https://www.facebook.com/MenOfIceClimbing2013
. (SoMe-luddiitit voivat kysellä lisää wanhan kunnon sähköpostin kautta:
men.of.ice.climbing.2013@gmail.com
)
Työryhmän puolesta
kiitos ja anteeksi,
Reima
[Pahoittelen viestin kaupallista luonnetta, mutta se on väistämätöntä, kun kyse on mainostuksesta.]